It was an honour to be named amongst Ipswich power players keeping the region afloat during time of turmoil. Our CEO, Paul Tommasini and Chair, Lynn Mount spoke to Peta McEachern from QT – The Queensland Times.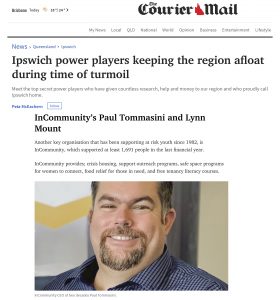 InCommunity CEO Paul Tommasini said the non-for-profit works with the communities
most vulnerable who are homeless or at risk of homelessness.
"Growing up I saw a lot of people who had significant strengths and skills who weren't reaching their potential because of certain things in their life.
"So for me it's about how we as an organisation and as a community inspire people to become the best versions of themselves – it's about benchmarking against ourselves, not others. Everyone has something different to offer the world.
"Just because someone has hit a rough patch or is in a crisis doesn't mean that that is their narrative for the rest of their life."
Mr Tommasini said the demand for services increased by 650 per cent since the pandemic and that "hands down" the biggest challenge they were facing was a housing shortage.
"Construction isn't quick enough, there's been a lot of talk over the years about what's needed and now is the time rubber has to hit the road, the sound of construction needs to be louder than the sound of debate to get this happening," he said.
Head of the InCommunity board, Lynn Mount said she was incredibly proud of the organisation and the hard work of on the ground staff.
Ms Mount said for her personally, she was worried about the effect a possible global recession would have on all non-for-profits and charity organisations who are already feeling additional demands off the back of the pandemic.
"We will have to look beyond now and into the future. We want to sustain the sector so we can help the people in the community and at this point we are doing a reasonable job but we could do better."
To find out more about our services visit: https://incommunity.com.au